A Cupola or 'Widows Walk' is found atop many
New England East Coast mansions-
It is a tiny, aerial, fenced-in landing from where
the Wife of the Captain's house can first see his
returning ship crest above the horizon.
As this sad name suggests…
many times their anxiously awaited ships did not return.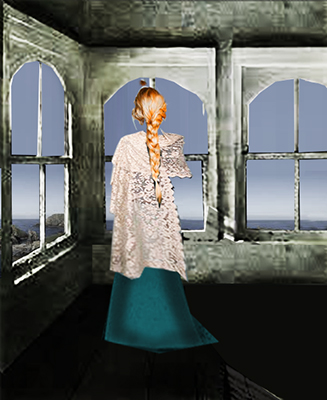 The Widow's Walk
…And so, she climbs again the stairs,
That lead up to her prison where,
She spends her day in anxious prayer.
She wrings her hands in her despair.
She paces out her tiny cell.
Where every day she's drawn to dwell.
As if bewitched by some strange spell.
She stands a seaward-staring sentinel.
She sees no mast cut through the sky.
No flash of sailcloth greets her eye.
The screaming seagulls laugh and cry.
Is it joy or doom that they prophesy?
She regards the town from her woeful nest.
It is quiet, yes- But there's no rest.
She knows each home must brave this test.
There is a nagging dread in every breast.
She clutches tight her shawl of lace.
A tender gift from some distant place.
And she scans the sea for some faint trace.
Numb to the frosty day's embrace.
Cruel evening bells are sadly rung.
Her day's watch wanes with the setting sun.
Another lonely day is done.
She drowns in sleep's oblivion.
Till dawning wakes her with a start!
A new day's come! Hope fills her heart!
She sees her weeks of fears depart.
"Today will end our days apart!"

And so she climbs again the stairs,
That lead up to her prison where,
She spends her day in anxious prayer.
She wrings her hands in her despair…#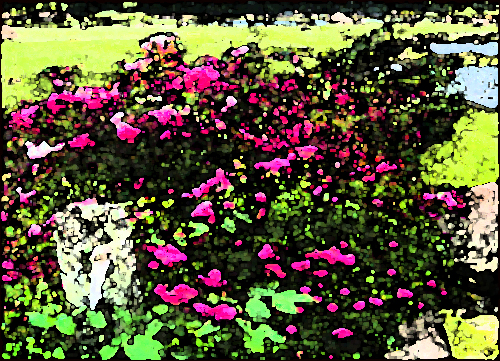 Salt Marsh Roses
Salt marsh roses blazing in the sweltering, summer sun.
A filigree of tangled thorny branches,
crown this winding row of carefully piled stones.
Stones that have stood here the centuries.
The centuries since they were drudgingly dragged from
every inch of this ancient ice-scrapped land.
A winding wall of stones, a mark of early settlement.
For here once gardens grew!
The sea in time has shifted its fickle profile,
placing this hard-worked dirt too near the tide,
to be of any planting use today.
And so this abandoned plot grows in unkempt.
Unvisited by the scythe and plow.
Now the rampant roses reign unchecked.
Every inch of sunbaked stone is thick with clinging vines.
The vines are glazed with ice-pink blossoms,
that glow like incandescent snow upon the ancient bark.
The tiny windblown petals drift down,
to lay a luminous carpet upon the dank and salty soil.
The seething canopy of bees interlace their shadows,
As they frantically gather their sacred golden pollen.
Their selfish efforts unwittingly secure the bird's survival.
For later on, the fertile rose hips will swell and ripen
in the abundant harvest, the cooler weather will bring.
For now, the birds are content to wait.
They nestle luxuriously in the fragrant matted vines.
Every rocky crook is lined with sweet salt hay
carried excitedly from some adjacent meadow.
The ancestral nests are kept in readiness.
For even in this soothing, welcome warmth…
The ocean's crashing waves…
Count out the waning, summer seconds.
For here, among the winding rocks and salt marsh roses,
not even the flaming glory of the molten, summer sun
can entirely erase the menacing memory of icy winter winds.
For summer here is just a precious lull.
A reflect-full, healing warmth before the leaves begin to change
and all brave hearts must turn once more
to face the arctic breath of screaming winter gales!