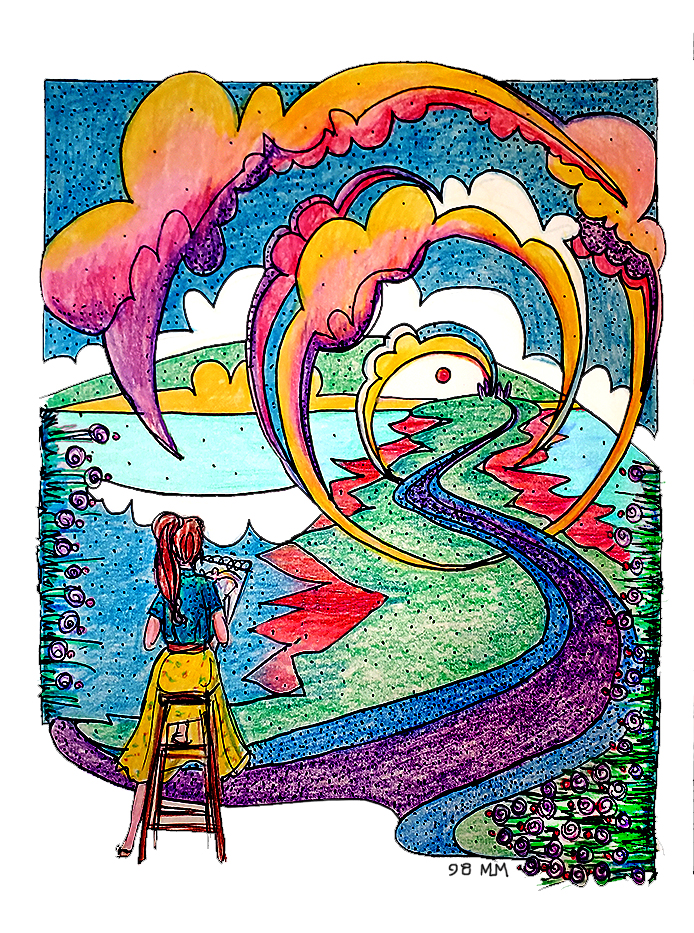 Give a child (or anyone really) a clean sheet of paper and markers or colored pencils or crayons and ask them to 'free draw'. (That's drawing without any examples or instructions.) The first question is, invariably, "What should I draw?"
"Draw what you see." I always answer.
"But, everything I see is boring."
"Then see something else."
People often think art is meant to be a portrayal of
something tangible. Something everyone can
see for themselves. Something real. A garden full
of pretty flowers, maybe, or a striking, person's face.
That way others can visually judge how precisely you reproduced the subject and criticize how
well you copied it. Copy shmopy!
The best art I have ever seen is not a copy of something real. It is a vision unique to the artist. A vision I couldn't see until the artist shared it with me. There is no way to criticize an original painting without something to compare it to. You can decide if it appeals to you or not that is your own opinion and does not add or subtract from the merits of the Artist's work. The most extraordinary feeling is looking at the clean, blank sheet of paper with no preconceived idea of what you are going to draw, yet you can see something beyond the page just waiting to be discovered. Then by a few lines and curves, a shape here, some color there a brand-new vision is born. A vision truly unique to you. Anyone can copy!