The Old Man in the Mountain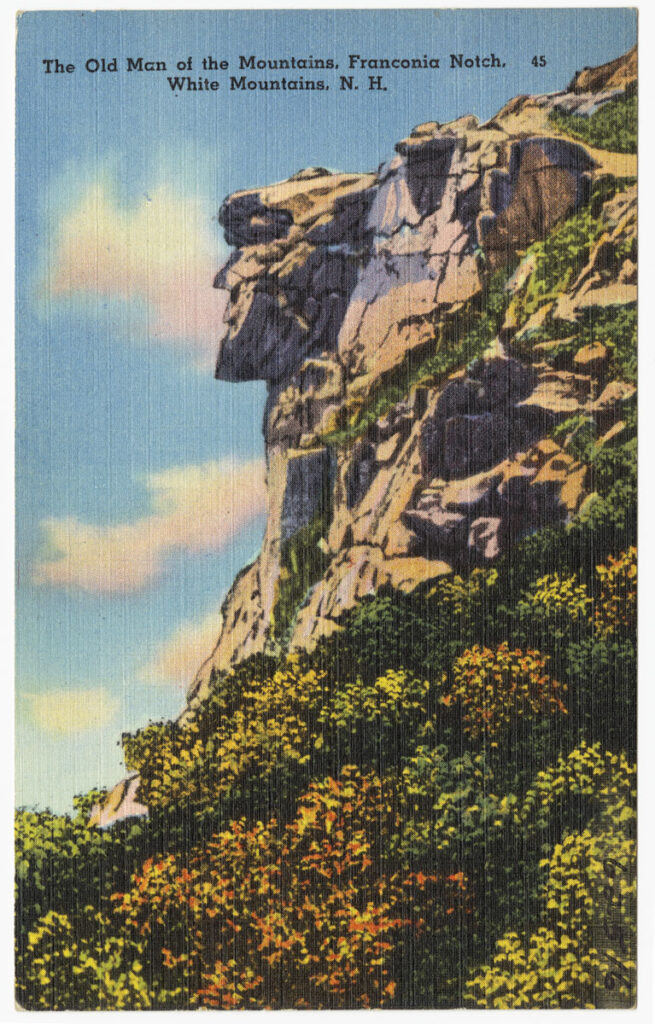 The Old Man in the Mountain
I remember reading in bed one night when the radio announcer said, "The Old Man in the Mountain has just slipped from the rockface and is now nothing more than a pile of granite rubble." I was stunned! Not The Old Man in the Mountain? It had been carved by glacial erosion 10s of thousands of years ago and was now just slippery, slabs of broken rock! My first thought (as a graphic designer) was that the state of NH is going to need a new logo. Every New Hampshire brochure and all the signs up and down the highways depict this stoic, stone face.
Every time I go to Franconia Notch, I wait expectantly to see the titanic profile. I always think with disappointment… "It's just too subtle to see this time." Then we would round a bend and he would come into full focus! It was the profile of a man! There were no doubts, no nuance, it was as clearly defined as the blue sky around it.
I wonder who saw the chiseled man first? There must have been an indigenous person who looked up from just exactly the right spot and thought, "Whoa…That's a man!" (Because you must stand in exactly the right place to see the illusion. A mile either way and he doesn't appear.)
Did that first person think to leave a rock or some kind of marker at the magic location and run back to the village crying, "I just saw a man's face? A really, really big man's face. As big as the mountain!" (It probably wasn't referred to as 'old' way back then.) Did his villagers believe him? How could they know how to get back to those precise coordinates that would bring the profile into focus? The White Mountains are a vast, wild country even today.
The disbelievers must have been brutal when he tried to lead them back to the precise point where the man shifts into view. "I don't see any mountain man. You are making this up!" (As I said, a mile in either direction and the rest of the cliff obscures the gigantic profile.) Was there first a rumor of some Titan who protected the mountain? Or a secret viewing only for the initiates who were led to the precise location from where the mountain man becomes visible. Was he the first 500 years ago or 5,000 or beyond our modern reckoning? I know I'm going to miss the granite landmark of my state. People always knew where you live if you mention 'The Old Man in the Mountain'.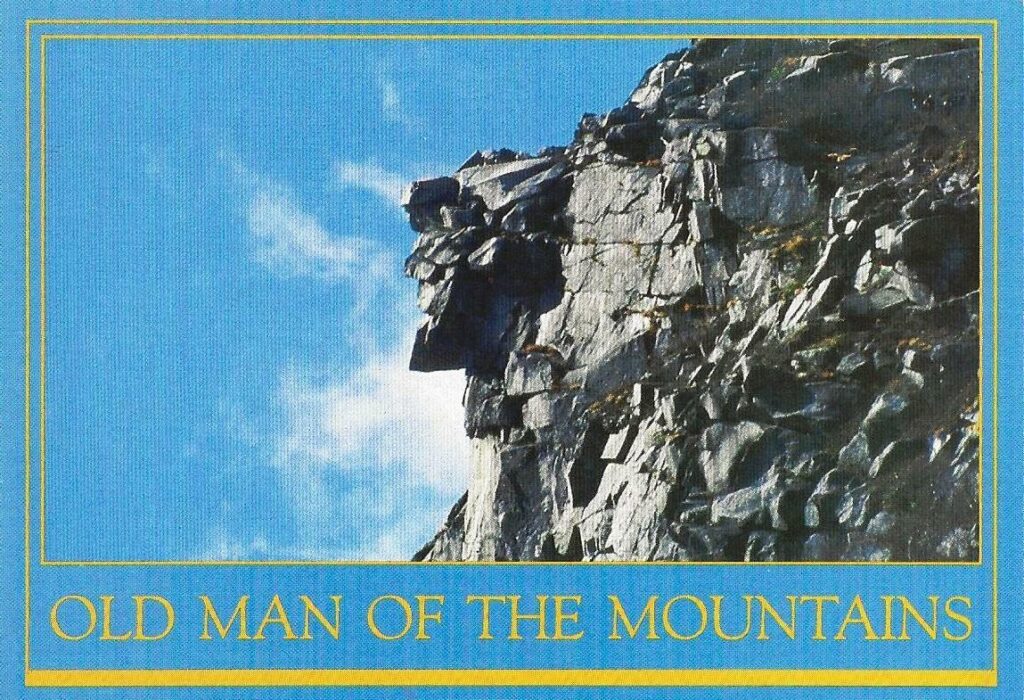 More: So I was thinking…
HOME
All images and writing are copyright Mary Lee Mattison 1/8/1981 All rights Reserved.